how to Sleep:
where to Sleep:
Info:
...wake up on Lake Garda!!
Events and Manifestations of Lake Garda
updated Tuesday 23rd October 2018, 22:18:34

See all events (4) | feste (4) |


feste
TUTT´OLIO
28-10-2018 from 12:00 to 22:00
Castelletto di Brenzone di Brenzone (VR), Castelletto di Brenzone
Itinerario Enogastronomico con Degustazione di Prodotti Tipici nei Ristoranti, Osterie e Bar di Castelletto



detailed description:
Ritorna il tour enogastronomico in occasione della 2nda Festa nazionale dedicata all´Olio che porta alla scoperta dei locali di Castelletto di Brenzone sul Garda:
domenica 28 ottobre
Ticket manifestazione € 35,00

Il percorso prevede tappe con degustazione di prodotti tipici e locali della zona, oltre a degustazioni di vini.

Piatti: zuppe, formaggi della zona, pesce del lago di Garda, fatti in casa Spaghetti freschi, erbe del territorio e molto altro. Con un vero piacere per il palato e l´anima vi aspetta il pittoresco villaggio di Castelletto
di Brenzone, con il piccolo porto idilliaco e il bellissimo panorama.
Rigenerazione per spirito, corpo e anima!



For more information contact:
Associazione Pro Loco Per Brenzone
http://www.brenzone.it/
info@brenzone.it
045 7420076

Events posted Saturday 18th April 2015, 14:10:52 by Associazione Pro Loco Per Brenzone info@brenzone.it http://www.brenzone.it/


spazio disponibile
200 x 60 pixel
gardanews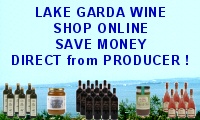 lastminute
* Price per day per person